The warm weather last week was perfect for our ice cream social! Thanks to everybody who came out and tried High Roads delicious concoctions! Just as we thought, beer and ice cream we're destined to be together!
We are open throughout the holiday season! So when you're running out of ideas to entertain your out of town house guests, send them our way for some pints of holiday cheer! Our MUSTministries can drive is still in full force! 'Tis the season for giving- so we're giving you up to $2 off with every donation!
 Live Music this weekend at the Brewery:
Friday: Tui Osborne
Saturday: Tre Powell
 Upcoming Events:
Thursday 12/13- Bah Humbug! A brewery shopping extravaganza!Come grab a beer whiledoing a little last minute holiday shopping! We'll have a couple local vendors during our normal tasting hours (5:30-7:30pm). 10% of proceeds go to Camp Horizons Children's Foundation.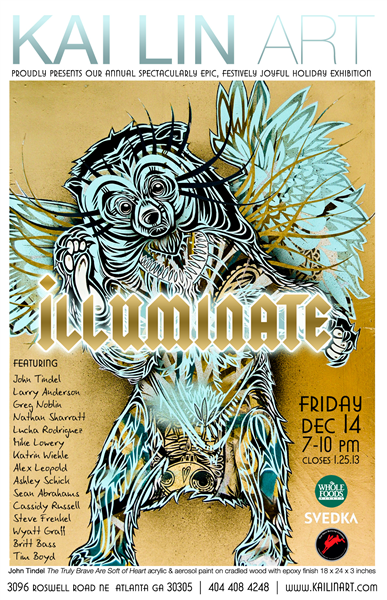 Friday 12/14- Opening night for the ILLUMINATE exhibit at KAI LIN ART 7-10pm. Sip on some Red Hare cans while browsing this "spectacularly epic, festively joyful exhibition." (Exhibit runs through Jan. 25)
Tuesday 12/18- Pint Night at Corner Pizza Brookhaven! During trivia (starts at 7:30) buy a RH pint and keep the glass! We'll also be raffling off a brewery tour for up to 10 people!
Wednesday 12/19- Tapping a cask of Chocolate Cherry Breaker (made with RH Chocolate Porter) at Johnny's Pizza Lawrenceville at 6pm
Thursday 12/20- Tapping cask of Chocolate Porter made with rum soaked oak chips at Local Republic at 6pm
Friday 12/21- End of the World Party! 9:30-12:30 at the brewery! $10 survival kit includes: souvenir pint glass, 6 tasting tickets, a brewery tour, and live music from Goodbye Machine.